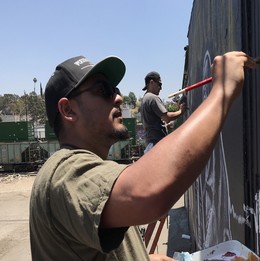 About
Bryant Argueta is a Designer and Illustrator from Los Angeles, CA. In his work, Bryant is interested in capturing the essence of the things and people who have inspired him, in hopes that his creations may then inspire others. He works in a variety of mediums, both traditional to digital (Adobe Creative Suite). This versatility is also shown in his range of styles, which are helpful in allowing him to produce the right artwork for any client.
Early on in his artistic path he was influenced by the hip hop and skateboard cultures particularly for the graffiti and by the art on skateboards. During his teens he met one of his graffiti heroes "Cre8", who helped him come up with the artist name "Gile One". By continuing to use the name he would like to inspire others to remember where they start to help keep pushing forward.
Bryant and his colleagues came together to create a positive lifestyle brand by the name of "FourGroundCo". They design and produce all of their own apparel and merchendise. FourGroundCo also believes in giving back by reaching out to communities in different parts of LA to create workshops for youth to learn various art and printing practices. The goal is to expose youth to the possibilities of pursuing a career in the arts and/or entrepreneurship.
Contacting Bryant
Email: bryantargueta88@gmail.com

Phone: (323) 635-3988